After All We Have Travelled by Sarala Estruch (Nine Arches Press, January 2023)
*A Poetry Book Society Spring 2023 Recommendation*
After All We Have Travelled, the debut poetry collection by Sarala Estruch, is a distinctive journey across time, continents and cultures, through memory and generations of family history, exploring the long legacies of empire and its personal and political effects. It is a story of intergenerational trauma, grief and disconnection, but it is also a story of the enduring power of love, of connection, and of embarking into motherhood.
Combining elements of memoir, biography, and fiction with formal and experimental poetry, Estruch's work explores the losses incurred by forbidden interracial and intercultural marriage, and is a potent reclamation of voice, story, and mixed-race identity.  An important, compelling collection, it asks: What or who is family? What or where is home? And like the modern rose – a hybrid species with origins spanning the globe – to where do we return?
To order a copy of After All We Have Travelled click here.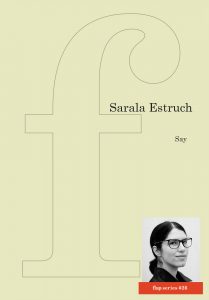 Say by Sarala Estruch (flipped eye, October 2021)
In Say, Sarala Estruch explores the limits of language in the face of overwhelming loss and attempts to forge a language with which to probe subjects that still remain largely taboo: grief, childhood bereavement, the challenges and possibilities of cross-cultural and interracial relationships, mixed-race identity, colonialism and its aftermath. A pamphlet that exists in the spaces left vacant by the silences in the stories that parents and grandparents tell us; Say casts a slant light on the scars our ancestors carry, both those we inherit and those we choose to leave behind.
To order a copy of Say by Sarala Estruch, click here.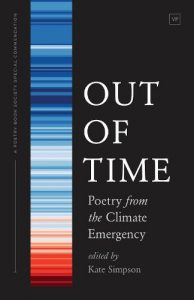 Out of Time: Poetry from the Climate Emergency ed. by Kate Simpson (Valley Press, July 2021)
— Selected as a Poetry Book Society Special Commendation
Sarala's poem 'I research the origins of the modern rose and discover' features in this critically acclaimed anthology.
To order a copy of Out of Time, click here.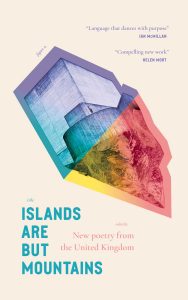 Islands Are But Mountains: New Poetry from the United Kingdom (Platypus Press, 2019)
Sarala's poems 'My Indian grandmother' and 'turtle' appear in this critically acclaimed anthology.
To order a copy of Islands Are But Mountains, click here.
Primers: Volume Three ed. by Jane Commane and Hannah Lowe (Nine Arches Press, 2018)
Sarala's poetry short 'The English Dream' appears in this anthology, alongside the poetry of Romalyn Ante and Aviva Dautch.
To order a copy of Primers: Volume Three, click here.
Select publications in journals and online publications:
Poetry
'Gorge' and 'I research the origins of the modern rose and discover' — amberflora
'My Mother's Indian Wedding' — harana poetry
'Sonnet for the Unborn Child' — A Bright Future
Creative non-fiction and fiction
'Saturdays' — Wasafiri (shortlisted for the Wasafiri New Writing Prize 2015)
'After Birth' — MIROnline
'England: A Love Story, or The English Dream' — Nine Arches Press blog