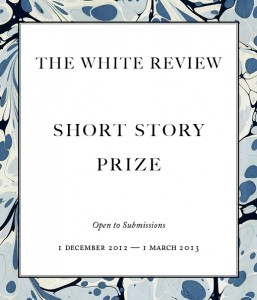 So I finally got round to reading the winning story of The White Review's short story competition (2013), 'The Lady of the House' by Claire-Louise Bennett and it is so fantastic I simply had to write about it.
'The Lady of the House' is a refreshing change from the slew of contemporary short stories out there. Bennett bravely attempts to capture the workings of the mind as it goes along living its life in the moment – and succeeds. The story is securely lodged in the mind of its narrator, tracing an unnamed character's thoughts in a superbly modernist style and yet the subject matter is firmly contemporary. The way it deals with the humdrum details of the everyday, like cycling to the supermarket, tidying up the kitchen, putting out the rubbish, is simply fantastic. The story is grounded in the everyday, and related in fresh, vivid language that keeps the reader hooked. The banal is juxtaposed with more philosophical musings on the nature of thought itself and the way the mind works.
'The Lady of the House' strongly recalls the works of Virginia Woolf (To The Lighthouse, Mrs Dalloway) but the modernist mode does not feel stretched or redundant – it feels utterly suited to contemporary times. As Anna Hope, writer and alumnus of the Creative Writing MA at Birkbeck, pointed out when she came to talk at Birkbeck this summer, it is interesting that in our postmodernist age, the mainstream mode of literature is still Realist. The White Review seems to be out to change this – and I will certainly be following their adventures.
To have a read for yourself, click here.